Dear Friends,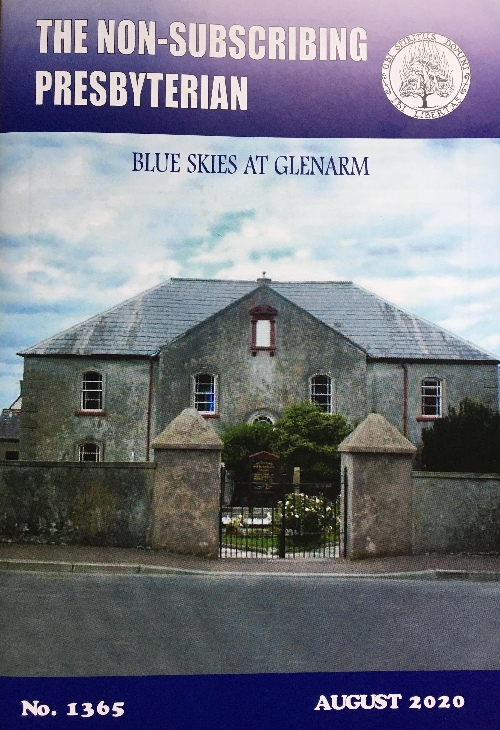 The AUGUST edition of the Non-Subscribing Presbyterian Magazine is available. Below is a comment on the magazine cover, and a copy of the table of contents.
If you may be interested in submitting articles or subscribing to the magazine, please contact Rev. Heather Walker at This email address is being protected from spambots. You need JavaScript enabled to view it..
Magazine Cover Photo: Our most northerly church building is as rich in scenic views as it is in history. Located only a short distance from Glenarm Castle (with it's acclaimed tea rooms), why not make this a stopping point next time you venture up the North Coast?
Online Ministry Links and Addresses 21
EDITORIAL - By Rev. Heather Walker
This month we're thinking especially of those of our churches planning to open in the next few weeks; may God be with you in your preparations - practical, prayerful and positive - to begin corporate worship again.
I think at this stage we are beginning to empathise with the lament of the Jews in Psalm 137, when they longed to return to their own land to worship God. We might not be at the 'rivers of Babylon' but the idea of the pandemic as a tormentor may seem appropriate to those suffering in isolation!
Thankfully, whilst the desire to return to have fellowship together is strong, and the sense of community and solidarity reinforced by coming together in a shared spoken prayer in a common venue is palpable; we are reminded in John's gospel that the Father is 'actively seeking' us (wherever we might be) to worship in 'Spirit and in Truth'.
I love this verse. I have always felt a connection with the Samaritan woman at the well, and the exchange between the disreputable loner and the Son of God is one that challenges, comforts, and intrigues me in equal measure.
We can be challenged by the call to worship in this way: surrendering ourselves to the otherworldly notion of a Divine Spirit worthy of our praise and honour whilst still grounding ourselves in an earthly, physical 'truth'.
In the original Greek translation, this call could be interpreted as 'that which is unseen and that which has been revealed'. We worship God with what we feel - all those intangible sensations and emotions - but our faith and our worship are not simply subjective artefacts of those feelings. Instead we come with the truth of our experiences and knowledge of the natural world. Our truth may therefore be different to others, based on cultural situation and available evidence, but it anchors us to the reality into which God has placed us. An example: it is true for me to say that August is a summer month. That is not true for my relatives in Australia. What has been revealed to them is different to that which has been revealed to me. Yet we worship the same God, through the same Spirit, in the same spirit of Truth.
As we return to church-based worship, bear in mind that the truth of lockdown experience maybe different for each of us; yet together we are expressing a desire to worship from within that space.
We can be comforted by the promise that God is 'actively seeking' us. How awesome a thought, that the Most High not only desires your worship, but will seek you out to experience it! Whether you offer up your worship communally in a church service, or in isolation lift your face to the sun, closing your eyes and feeling the warmth on your skin, breathing out a sigh of thankfulness to the Good Father who provided it, God seeks that. He seeks the resilience that helps us stand against (or even sometimes within) despair. He seeks the willingness to acknowledge the unseen amid the tangible, and the desire to receive from him.
The Jews sat by a river yet could not quench their desire for worship as they remembered it. The woman came to draw water only to be offered the Water of Life. We, together or apart, give thanks to God for supplying the water than becomes a spring within us, refreshing not just our congregation, our family or ourselves, but also the Father who has been seeking us and accepting us as His own.
Yours in Christ,
Heather.